Calling digital innovators from Iraq
Apply now for World Summit Awards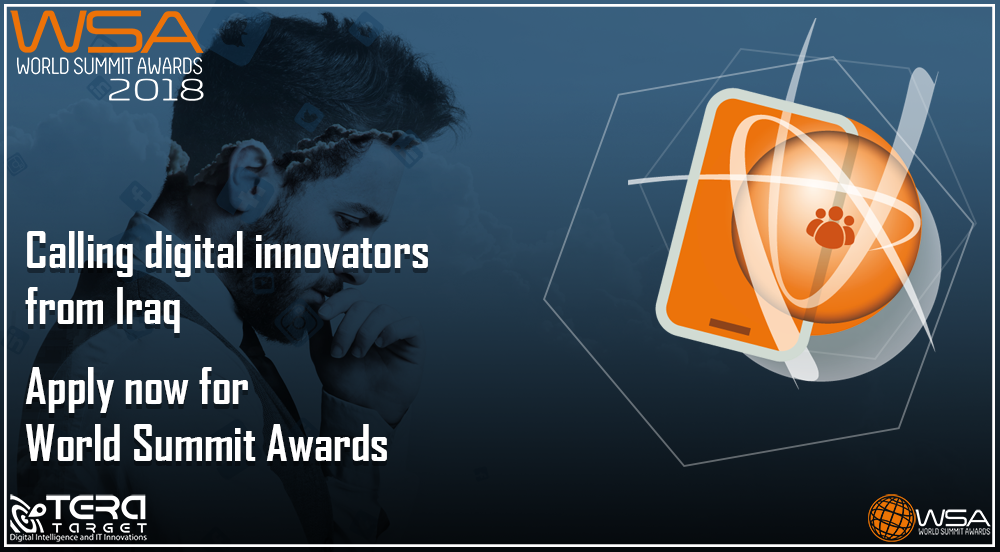 World Summit Awards (WSA) recognizes the world's best in digital innovation with impact on society!
---
WSA is a nomination based award system with a clear focus on digital innovation with social impact and relation to the UN SDG's.
Submissions for the WSA 2018 can contain all mobile and web-based applications, such as: apps, web pages, applications for wearables, kiosk installations, SMS based products, mobile games and interactive mobile productions. There is no limitation regarding the platforms or channels the projects work with.
Nominations from Iraq to the international WSA are possible through the WSA online platform and your National Expert, Dr. Hemin Latif.
Recognizing digital innovation with high impact on society
As a UN based initiative, the World Summit Awards select and promote the world's most outstanding digital content. "Today, our world is almost entirely connected. But in this ocean of products and services, quality content is hard to find and local solutions have a hard time to compete with mainstream solutions", states WSA Chairman Peter A Bruck. "WSA provides the answer to this issue, by promoting local content with global relevance."
The WSA Global Congress
After the national pre-selection period, a jury of eminent experts will come together to evaluate the submissions and select the 40 best products from among hundreds of national nominations and the 6 best young innovators in the Youth category.
The winners will get the chance to present their products at the WSA Global Congress. The event will offer a platform for high level experts, industry leaders and government representatives to discuss digital innovation.
WORLD SUMMIT AWARDS CATEGORIES (click the hyperlink to learn more about each category)
GOVERNMENT & CITIZEN ENGAGEMENT
services | open data | democratic participation
medical care | sport | lifestyle Health & Well Being
knowledge | science | skills The Learning & Education
climate | sustainable resources | agriculture
heritage | entertainment | subcultures
SMART SETTLEMENTS & URBANIZATION
mobility |productive work | sustainable living
innovative services | security | finance | marketing
diversity | gender | justice | human rights
WORLD SUMMIT SPECIAL CATEGORY
youth taking action on the SDG's | strictly for people under 30
DON'T MISS YOUR OPPORTUNITY TO BECOME THE NEXT WINNER!
Make sure to submit your project by August 31, 2018, for the pre-selection of WSA 2018 in Iraq through the online submission platform found at https://db.icnm.net/Signup/WSA/2018/Iraq/